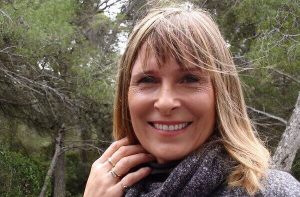 Author and workshop animator, Shelley Ann Vernon has dedicated herself to making English language teaching more fun and more effective in classrooms around the world. Over 15,000 schools are using her methods and philosophy, which is based on the belief that learners should be praised and nurtured and that repetition is the mother of skill.
Following her BA degree in languages at Durham University, England in 1989 Shelley Vernon took a TEFL qualification and became a teacher. She taught in language schools in the UK and privately around the world for several years.
Having been largely bored to death herself while in school Shelley was determined not to put her own students through the same desperate clock-watching and she always strove to prepare fun, stimulating ESL classes that pupils would enjoy and remember. She taught using a variety of methods, including the driest textbooks imaginable, which called for large amounts of creativity in order to make lessons more interesting. The main problem was the amount of time needed to prepare, which made her hourly rate become a mere pittance as well as having no free time!
She created a method from her experiences to share with other teachers. She has since shared her ideas with thousands of teachers around the world, bringing enthusiasm and a love of learning into the classroom, as well as great results. Shelley's approach concentrates on enhancing listening and speaking skills through language games which involve repetition and, for more advanced students, through fluency activities which have genuine communicative value rather than artificial conversation.
About Shelley's books
She created her best-selling "176 English Language Games for Children" and followed this up with unique resources for preschool children, including games and a curriculum laid out in illustrated stories. Having taught preschool children English and music at a Montessori nursery Shelley knows exactly what a teacher needs to do this successfully and stories are a stunningly useful element. Her ESL Games and Activities for Adults are also highly praised by teachers around the world.
About my hobbies
In addition to her degree in foreign languages, Shelley also holds a university degree in music (2000) from Canterbury Christchurch College. She loves classical music, and enjoys keeping fit with skiing, yoga and, in brief periods of keenness, excrutiating fitness DVDs. She loves dogs but doesn't have one at the moment. She also writes songs and has preschool songs CDs. She has spoken as a keynote speaker and delivered workshops internationally.  (See below for details.)  Contact Shelley Ann Vernon on info@teachingenglishgames.com for conference invitations and workshops.
Her new year's resolution is 'Be kind to all people, animals and things, all of the time, no matter what.' (Hawkins) Teaching English Games supports Charities around the world.
Exams Catalunya, Barcelona, a Cambridge English Language Assessment Authorised Platinum Center,  3rd annual ELT conference, 2015
Shelley's workshop was: Making English language teaching effective and fun in the primary school classroom.
UCN, University College of Northern Denmark, Hjorring 2014
How to teach English to your primary school pupils and have fun doing it.
"We have received evaluations from some of the teachers and they absolutely loved the input they got, including yours, so THANK YOU.  It was a great day."  Tanja Lundholm Christensen, Educational Consultant, Center for Educational Materials, Hjorring, Denmark.
YALS, Belgrade (Association of Language Schools of Serbia) , 2011
Current Trends in Quality Language Teaching.   Feedback given from the questionnaires: 80% of participants said the overall conference content was excellent or very good."All the speakers were excellent, especially Shelley Vernon."  "I really liked Shelley Vernon's workshop which was useful, interesting and full of ideas for young learners but also adults."  "I especially enjoyed Shelley Vernon's lecture because of the very useful practical ideas." 
IATEFL, Cardiff, UK. Young Learners Pre-Conference Event.
Proof of the pudding: a celebration of theory applied in practice.  This event looked at elements of excellent practice in young learner teaching and training and how these theories are being applied in classrooms across the world. 2009.