Fruits song - Part Four of Hetty and the Lion
Hetty Song, Lion Mask, and More Activities!
Free ESL Fruits Song!
Here is a free fruits song, a lion mask, and song activities, which are helpful for revision. Singing along gives pupils more speaking practise as they become more confident with the vocabulary and language. 
Your free fruits song Hetty and the Lion:
Song album with 16 tracks
Teachers have everything they need with games and stories, plus the songs to go with them. Therefore, I created 16 tracks to go hand in hand with the first ten stories.  Listen to extracts from the album here:
Check out all the songs & song PowerPoints
Songs activities book included with the album
The album comes with a 36-page activity book in PDF.  Each song has suggested activities to help pupils learn and practise the language.  There are also tips for preparing and acting every song for parents as part of a show.
Activities to use with this fruits song
Here are a couple of examples taken from the songs activities for Hetty and the Lion:
Listen and Clap
Tell the children you will play a song about Hetty and the lion, and they are to clap whenever they hear "lion" or "Hetty." Then, play the music and demonstrate while they watch and copy. Next, play it again, gradually fading out your prompts until the children can do it alone. You may repeat this in another lesson, but having the children clap on the word "would," which occurs in almost every line.
Repeat the Words Game
Demonstrate this game first with two students. Half of the children stand on one side of the room, and half stand on the other. Position pupils in pairs opposite each other. Next, ask the first half, "Lion, would you like some apples?" These children run across to their other half opposite and repeat this; "Lion, would you like some apples?" and then run back to their original place. 
The teacher now says to the other half, "Oh yes, Hetty, oh yes, I would." These children now run across to their partner, repeat the line and run back to their original spot. Although this is challenging for three-year-olds, it is feasible if you have been teaching them for a term or two. However, it is far too ambitious for an early lesson. 
Acting out the song
It's best to use real or plastic fruits, but pictures will do. You'll need apples, bananas, and pears. Divide the class into Hetty's and lions. The Hetty's advance across the room to the lions offering first an apple and then a pear. Each lion takes an apple and pretends to devour it! Next, all the Hetty's sing their words together, followed by the lions. Girls will have to be Hetty, while girls and boys can be lions. On the other hand, if you don't teach girls, change the name to Henry.
More games
You will find many more games, such as Listen Up, Q and A Game, Chase round the Circle, and London Bridge, in the songs activity book included with the album.
In all, there are 26 activities ideal for using with songs, whether it's to focus on the vocabulary, practise specific phrases, use the music as backing to another language game, sing along to, or act out the events in the song.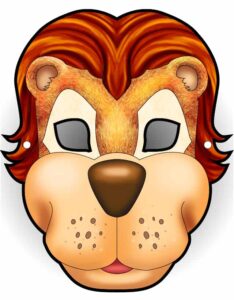 Animal Masks
Sixteen animal masks are included with Teaching English Songs Album 1.  These come in colour to wear directly and in black and white to decorate or colour. Use them for dressing up, miming, and in shows at the end of term.
The animals featured in the 16 songs are ant, giraffe, bear, monkey, pony, spider, fly, duck, dog, cat, snake, elephant, fish, bird, fox, and lion. 
There is also a mask for Hetty.
Here's your free lion mask so that you can use it with Hetty and the Lion.
Shelley Ann Vernon
Teaching English Games
The complete ESL song package
All this is included in the teaching kit. So order today to be on the safe side in case the price goes up!
16 songs – 9 original and 6 "golden oldies" with new words
Varied musical styles
Backing tracks to do karaoke over and change the words
Black and white masks for colouring
Colour masks for wearing
36 page PDF of activities on using the songs and all the words
Song movies included too.
Get your fruits song here