Use this fun listening game for vocabulary or grammar. It is appropriate for small groups of young children and one-to-one. There is a variant for larger classes.
Category: Step 2 listening
Group: Variants for small and big groups
Space: Yes as a small group variation, no for a big group
Pace: Excitable
Materials: None, but props enhance the fun
Small group variation
To play this listening game with a small group, stand in a space with learners around you. Children should be close enough to touch you with an outstretched hand. Using colourful props can add to the fun. For example, tie scarves around you, with each child holding on to the end of a scarf. Although this kind of prop is optional, children love it. You may have two or perhaps three pupils holding on to the same scarf. Another option is to stand on a square of coloured paper with children touching that square with one foot.
Pupils must stay touching you, holding the scarf, or with one foot in the coloured square until you say a magic word. When you say that word, try and 'catch' one of the children before they escape, releasing the scarf and running away to one of the classroom walls. When children reach a wall, they are safe. For example, tell learners the magic word 'mother.' Say 'father, brother, sister, grandmother…mother!' When you say 'mother,' children run off, and you try and touch one of them.
You could try and touch a child without moving from the spot. Alternatively, chase after a child, who must reach a wall, or safe place, before you catch them.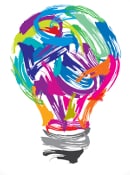 It is generally best never to catch the children, as it can make them feel they have failed, so be sensitive to this, but do make convincing attempts to catch them, but just miss!
Be careful that the children are not too close to each other, so they do not bump one another during the game.
If you have a strong student, let them take your role in the game.
Add variety by changing the way you speak. For example, use a flat monotone for several words and suddenly say a word with great enthusiasm. The surprise factor alone can make some children let go of you even though you did not say the magic word.
Vary the game by changing the setup. For example, you may have pupils seated around you on the floor. When they hear the magic word, they get up and move away to safety. Another idea is to have children stand on one leg while listening for the magic word and then clap and run away when they hear it. If a child cannot balance or forgets to clap before running away, they do a forfeit.
If children become too noisy, play a couple of rounds in total silence (aside from the teacher). Then, being silent becomes part of the game.
How to play – Larger group variation
To use this idea in a classroom with desks and chairs, use the magic word idea described above, but this time the children sit down when they hear the magic word. The last one to sit down, if it's obvious, does a forfeit.
Language ideas for this listening game for vocabulary
This game lends itself to any vocabulary. You may use short sentences, not just single words. For example, 'train' could be the magic word. Say 'I like buses, I like cars, I like planes, I like … trains!' Alternatively, to teach the past continuous, the magic word could be 'was reading.' Say sentences such as 'I was driving, I was walking, and I was reading!'
More listening games like this
For fun listening and speaking games get my book of preschool games. Click this link to get an instant PDF download.
If you prefer paperback or Kindle, you'll find it on most Amazon sites and other online retailers or order it from your local bookstore. ISBN-13 978-1541133396.
For opinions and recommendations on this book, see my reviews page, where you will find links to Amazon, Linked In, Facebook, and other places where I have been reviewed.
From Jessica Duguet Souber-Broglio, France:
"I totally recommend this book, and I have been so happy and stress-free since I bought it. It gave me a clear understanding of how to teach pre-school kids.
I am a new ESL teacher who was "freaking out" before reading it. Now I am a happy teacher looking forward to my lessons with my pupils. This book is my number 1 resource, and I'll keep it forever. I am just a little bit sad that I didn't discover it earlier; it would have made my first months more enjoyable and relaxed.
I like the structure and the extra advice inside, and contrary to other books, you don't spend a lot of time thinking over the activities as it presents them so clearly. So it improved my planning time and the quality of my lessons.
I am now a happy customer, so I also bought other resources from the author, which are great. I love the stories and that they come with clear lesson plans and resources that just need printing.
Thank you so much for creating such fantastic resources."