This blog shows you how to prepare kids to perform short plays in English. You'll learn how to introduce the idea of performing a skit and how to have fun preparing it.
Teachers experimenting with incorporating more drama into class, try my simple, short plays for children learning English!
My book of short plays in English comes with a bank of videos, thanks to generous contributions from ESL teachers who use them. You can see a couple here. 
To get started with drama, incorporate gestures and expressive sounds into classroom activities. For example, students might practise acting surprised or making a freeze-frame group image of a situation. Speaking is often not a part of these warm-ups. However, while this may seem like a step backwards, it helps students express themselves more confidently. So, as a consequence, they can also feel more confident speaking English later in the lesson.
Theatre games include a lot of movement, such as pretending to be a leaf blown about in the wind or fighting with a vacuum cleaner sucking up the curtains!
Check the intro of my skits book and the Viola Spoilin warm-up theatre games. With these, the focus is on acting rather than learning English.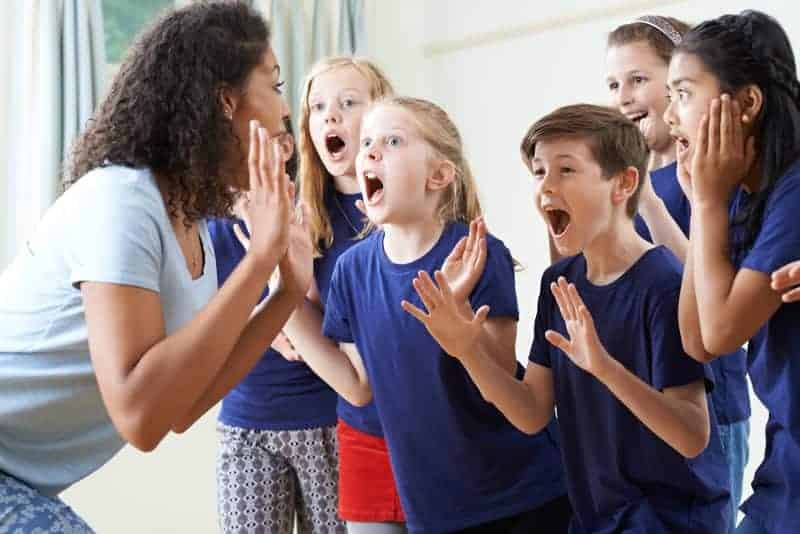 Keep your goal in mind
And now, there is the question of working towards a role play with young learners. The vital thing to ask is, are you being paid to teach English, drama, or both? If the main goal is to teach English, do not lose sight of that.
When I use plays, I use them mainly to teach English rather than drama, so acting is a side issue, and I don't focus on it particularly. However, if you have kids for a summer camp and drama is part of your objective, then go for it.
Theatre games can help students gain confidence in general, which is an asset for life. However, if time is short and you want maximum results with English, then read on to se how I proceed.
Preparing kids for short plays in English
Teach English first
First, prepare the kids with listening and speaking games to introduce and learn the key vocab and phrases by heart. This should take an entire lesson, though it may take longer depending on the age and ability of your class. (Click here for my book of games ideal for this preparation phase.)
After that main lesson, use fifteen minutes of each subsequent class on the play and the rest  on a different topic. For example, review a portion of the script, and have kids perform short role-plays with four lines. Gradually piece more of the play together and eventually do a couple of run-throughs. This approach keeps your lessons varied and saves you flogging a skit to death.
As the short play comes together, sometimes after six lessons, introduce props but only at the end because they are so distracting. Kids get so absorbed in the props that they can forget their lines and kill the flow of the action. By spreading out the skit preparation over several lessons, you achieve a lasting result with students' acquisition of English. The constant review and gradual increase in confidence and fluency help students remember the skit vocabulary and grammar for life.
Learn the skit by heart
Personally, I always do this work without the script. Kids learn everything by heart through language games and rehearsal. If you give out the script, students never have to make the mental effort to memorize their lines. Moreover, as for acting short plays in English, forget it; they need to be liberated from the page to be free.
Photo courtesy of Ane Gembesh: Ane's pupils perform my Robots skit to teach body parts at a school show for parents. Great job!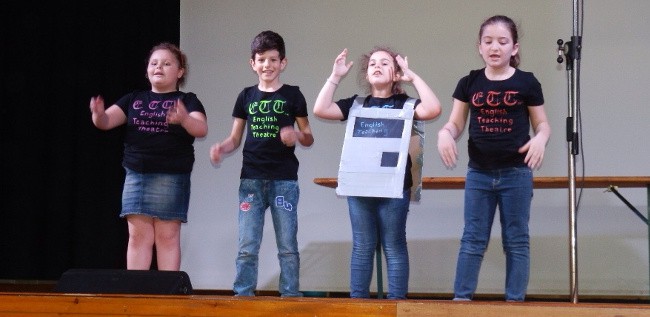 English immersion lesson?
Do I explain things to students in the mother tongue? Yes, I tell students we will prepare a funny sketch as part of a show because it is always a motivator. Then we perform the skit, either at the school assembly or in front of parents or other classes. It doesn't matter how or where, as long as you perform it for others.
On the other hand, if you don't speak the native language, that's OK. Actions speak louder than words, so just do it! When I taught in Nepal, there was no explanation; we just did it – learned the vocab and put the skit together. The kids absolutely loved it and applauded the lesson at the end. So they don't really need any explanations! LOL!
Tips for performing a funny play
Don't be a perfectionist; just get stuck in and see how it goes. Unless your mandate is to teach drama, focus on teaching English and leave acting as a perk. If you are being paid to be an English teacher, you must make that your priority. Don't spend half the lesson on drama techniques because you won't get as far with the English. Instead, take maybe 5 minutes for drama warm-ups. For example, saying a sentence angrily, then sadly, then happily, then reluctantly, etc. That's a valid drama activity because it works on language fluency at the same time. Rest assured, even without acting, kids love my short English plays, and even the shy ones get involved.
Videos of skits in action
I included these for teachers to give them the confidence to use fun sketches to teach English. But why not show them to the kids because it a good listening activity and fun to see other kids in the same boat! However, showing a finished skit might inhibit creativity and spoil the gradual discovery of the sketch, so perhaps show it towards the end of preparations.