Using role-plays in English might seem ambitious because teenagers can sometimes be too cool to learn, and not just at home! It's not easy being a teacher in front of a group of slouching, disinterested, de-motivated teens who prefer twiddling with their apps rather than learning English, which they see no point in doing anyway! But as their teacher, you have to find a way. Using role-plays and skits in English is definitely worth a try. Therefore, please read this blog if you have not thought about using skits in your teenage TESOL classroom. There is a link to a free short role-play for teens at the end if it inspires you.
Why do role-plays in English work so well with teens?
Plenty of others vouch for using drama to learn vocabulary, increase confidence, motivate students, and, a key attribute, shift the responsibility of learning from the teacher to the student. (*Alan Maley and Alan Duff 1982.) Using short skits with teens works because students start using language in context, in situations, with humour. The dry textbook grammar comes to life. There is nothing better to improve speaking skills. Students interact and bond; the vocabulary and phrases become tangible, interactive, and visual. Students remember their lines for a long time instead of witnessing English during class like a train passing in the night.
Student-centered classroom
Importantly, the teacher becomes more of a facilitator than a drillmaster. (That said, some drilling (via games) is excellent and truly productive, but one mustn't spend the whole of class time like that.) Give out skits to small groups and have students work on them independently of the teacher. In this way, you support their learning rather than spoon-feed them.
Spoon-feeding doesn't work anyway. Students have to make a mental effort to learn on their own.  Using and rehearsing role-plays in English in small groups will help students become more confident in their abilities to learn and become autonomous. Since teens are constantly being told what to do by everyone, they will relish this opportunity to show you what they can do independently. Now you can pat yourself on the back for having achieved a student-centered classroom, all the rage, and rightly so.
Teen-centered role-plays in English
Teen-centered skits
That said, your skits will be a flop if they are not teen-centered. My teen skits book covers topics teenagers can relate to like careers, music, parties, tattoos, dating and social media, jealousy, studying, learning things, drugs, and drink, (which are given the thumbs down by other teens in the skit), travel, TV series, and others.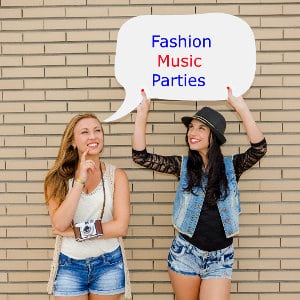 Choose teen-centered skits like mine!
Multi-level classes and mixed abilities
More advanced students have the opportunity to take leading roles and guide others. Meanwhile, shyer or weaker students participate in the group skit, with fewer lines. Naturally, just by participating, these shy students will gain confidence over time. In general, students will learn from and support each other.
Be more than an English language teacher; develop imaginations!
Moving on to other aspects, what we need in the world are more teachers who teach students to think and develop their imaginations. Usually, the more you try to think of ideas, the more ideas you have. I suppose "practise makes perfect" as the brain creates new or bigger neural pathways. Indeed, using drama to teach English will help your students be more creative, develop their imaginations and think for themselves. In addition, you'll help them grow as people, too, learning to cooperate in the group, make decisions, distribute roles, compromise, work out props or movements, communicate, and bond as a group.
Prepare teenagers for life
In theory, teachers are also supposed to prepare students for life, for the job market. As noted earlier, using skits and drama in your classroom will help your students with that far more than reading paragraphs out of a textbook. Through rehearsing role-plays and putting them together, students will improve in many areas, making them more confident for job interviews. For example, increased confidence, greater ability at public speaking, increased self-esteem, teamwork skills, and the capacity to organize themselves and work independently of the teacher.
Learning to become responsible for your own English language acquisition is the same as accepting that responsibility for your life. You make your choices, and reap the consequences. The sooner teens learn that, the better for them, because it helps them make better choices. For example, they might want to enjoy"Wine women and song" (Whitesnake), and that might be OK, but not every day of the week! Or they might decide to pay more attention in class and make more effort with their homework.
One step further – improvisation for higher levels
There is, of course, the whole area of improvisation and thinking on your feet. That is to be encouraged in classes where the language ability allows. However, improvisation is not such a good idea where students are struggling with the basics. That said, do tell students that they are free to add or modify the script if they like. Improvisation can also be pretty terrifying, so take it step-by-step. There's a heck of a lot you can do just by working on a given script.
Role-plays in English Resources
Resources
If you have got through this abundance of benefits to using skits to teach your teens, you'll be more than ready for these links: A free skit sample for first and second conditionals and my teen skits. Both my skit books have intros with guidance on teaching the topics and vocab.  In addition, there are discussion ideas for each of the teen skits. Finally, every role-play (bar one) works for one-to-one teaching and groups. 
In addition, you've got me to help you with anything; just ask in the comments box below. Naturally, your email is kept private, it's only so that I can respond to you.
Spolin, Viola (1986). Theatre Games For the Classroom. Northwestern University Press, Evanston, Illinois
Ref: * Maley, Alan, and Alan Duff. Drama techniques in Language Learning. Cambridge University Press, Cambridge. 1982