A dismayed ESL teacher found that his students did not understand the concepts of subject, verb, and object. When he tried to explain English grammar, he found that he needed to explain grammar. My games and teaching philosophy work for this too! Here's how to teach these grammatical concepts.
Use a picture
Use a picture and a sentence to explain the concepts of subject, verb, and object. For example, this post's picture shows a dog drinking milkshake.
Subject – who or what does the action – THE DOG
Verb – what is the action – IS DRINKING
Object – what is affected by the action – MILKSHAKE
Pupils think of more examples
Ask pupils to make up some sentences from the picture or other images.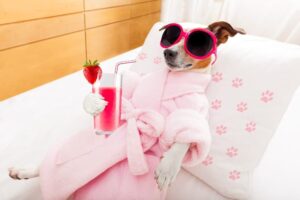 The dog is wearing glasses.
It is lying on the chair.
The dog is wearing a robe.
It is holding a glass.
Colour code subject, verb, and object
Write up the sentences your pupils suggest, and ask kids to read out all the verbs. For example, one child can come to the board and underline all the verbs in green as the class calls them out.
Repeat with a different child at the board, and circle all the subjects with pink.
And finally, colour code the objects in blue.
Subject Verb Object Games
A game to put the parts of speech into sentences
Have the class choose and write down EITHER a subject, an object, or a verb,
(preferably using the colour code on the board).
Now kids go around the class looking for two other people with whom to make a sentence. If a child has written down an object, they have to find a subject and a verb. When kids have joined up in groups of three, they stand in their groups and wait a minute for others to finish. Don't wait till everyone has finished, and don't let kids stand there waiting for more than a minute, or they will start to mess around.
Ask everyone who hasn't made a group to sit down and be ready to switch places with a student in a group. Then listen to the sentences that have been created. Next, have those sitting down swap places with someone in a group. This way, they are included, even though they did not  find partners to make a sentence.
Follow-up idea
Using pictures, ask children to make up three sentences using a subject, verb, and object. With the dog picture here, some examples are: The dog drinks a milkshake. There is a straw in the milkshake. I can see a dog. The milkshake is in the glass.  Then, try finding the subject, verb, and object in questions, like, can you see the dog?
You can play this again in a future lesson, but with groups of four and including adverbs.
Jigsaw game
In pairs, have kids cut up a sheet of paper into twelve squares and write down four subjects, verbs, and objects.
Each pair swaps their cards with another pair. Set a time limit for everyone to make sentences using three cards for each. Move around and help where needed. After a few minutes, stop the activity, perhaps when the first pair have finished. Then, hear some examples from a few pairs. If kids seem very involved, swap cards again and repeat, or collect all the cards to use in a future lesson.
When you use this activity in the next lesson, all the cards will be mixed up, so you can start with a sorting game where groups put them into piles.
Dominoes
Why not play dominoes in small groups with the subject verb object cards? Start with a subject card, followed by a verb, and finally, an object. A subject card may then be connected to the object to start a new sentence, so that the pattern is always subject – verb – object.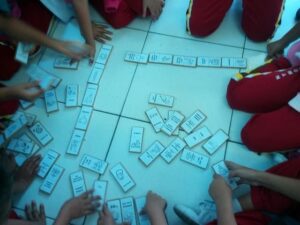 Helpful resources to teach grammar through games
These games books are great for teaching grammar and vocabulary through interactive games, and I'm here to help you succeed.
For all you teachers who prefer paperbacks, please visit my Amazon Author page Shelley Ann Vernon !
All the best
Kind regards
Shelley Ann Vernon