Here is my English story Hetty and the Lion, for kindergarten kids learning English as a second or foreign language. To start, download the colour illustrations, and then check out my storytelling tips.
Hetty and the Lion Story Pictures
Before you begin, make sure your children know the key vocabulary outlined in this lesson plan for English language learners (ELLs) to prepare for this story.
First, show the children the lion flashcard and repeat the word to them a few times and have them say it back to you.  Next, ask the children to move around the room as if they were lions with sound effects.  Next, tell them to be a lion, but whenever you clap, they must freeze.  Have pupils freeze for 10 seconds, and then say, 'be a lion.'  Next time make them freeze for only 8 seconds, then 6, then 4, then 2, then 1 second. The increase in pace will make them quite excited and enjoy being a lion a little more.
Now you are ready to tell the story since you have already taught all the fruits in the lesson plan.
Acknowledgement
Pictures of preschoolers using this English story are used with kind permission from Valentina at Douafetecucuiete in Romania.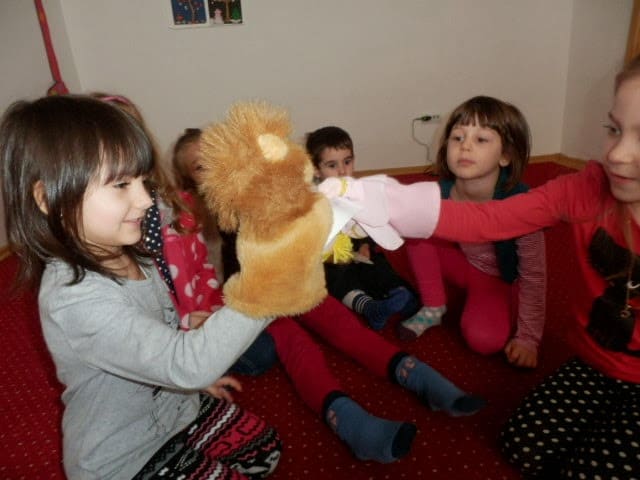 – First, seat pupils in front of you on the floor where they can all see the pictures.  Pictures are vital to understanding, so children should be able to see them easily.
–  Next, show the first picture, and ask the children what they see. Then, have them name the animal or objects.  It is OK if the children use their language to reply but try to elicit the words in English.
–  Start the story using as much vocal and facial expression as possible, acting out the story with gestures wherever you can.
Exaggerate
–  Use dramatic voices to fit the personality of your characters.  Practise beforehand with high and squeaky, low and gruff, and any variation in between.  As well as the pitch, make the voice loud or soft, slow or fast, breathless, sad or happy.
–  Use gestures.  For example, hang your head in sadness or look worried and tearful. Alternatively, be happy, depending on the event in the story.  Then get the children to imitate the character  and look happy or sad along with you.
–  Now add animal noises or a song or rhyme.  For instance, in the Marching Ants (the fifth in this English story series,) you could create marching sound effects by drumming your fingers on a hard surface and have the children join in with you.  Indeed, sound effects can be vocal, instrumental, or improvised by clapping or tapping body parts.
Engage with questions
–  Ask some simple questions such as, "Where is the orange?" or "Is the lion hungry?"
–  Next ask the children to guess what will happen next, and they can do this in their native language.  The guessing game helps draw them in to be more curious about the story.
Keep things moving
–  If the children are engaged, continue to elicit vocabulary and the guessing game with each picture.  However, you may sometimes want to read the story straight through. Alternatively, stop to ask a few questions here and there so that the process does not drag on too long.  You can decide spontaneously, according to the feeling you have in the classroom.  Indeed, reading the story should be enjoyable, and you do not want to make a meal of it and spoil the fun by eliciting vocabulary the whole time.
–  It is not necessary to insist the children sit tight; as long as they are quiet, they will hear the English regardless.  However, if there is global restlessness, then you are probably  dragging the story out too much. In that case, speed up and move on to an activity involving movement as a change from the quiet sitting period.
This English story works!
I just wanted to let you know that yesterday was my first day teaching English in kindergarten. I had two groups each for an hour, and we ROCKED! 

We all had so much fun with the Hetty and the Lion story, running around and laughing; we were all sweaty and happy after the class!
I couldn't have done it without all your great advice and wonderful story. Thanks so much.
Molly Sommer, Germany
Do let me know how you get along with the materials.
All the best, Shelley Ann Vernon
P.S. Make the most of the excellent value for the entire English story package with everything you need to give great lessons to your Preschool ELLs (English language learners!)
*96* colour illustrations over ten stories
Black and white sketches for colouring
Dozens of colour flashcards to pre-teach vocabulary used in the stories
Over one hundred ideas for games and activities to use in lessons
Quiet games, games with movement, games with music, fingerplays, and rhymes
PLUS 16 different bingo sets of the vocabulary used in the stories!
If you would like your English story sets as paperbacks, I sell them on Amazon at Shelley An Vernon author page.
Books one and two cover stories 1-10. Books three and four cover stories 11-20, and books five and six cover the special days series.
Do contact me to receive the curriculum details. You may also receive free samples here!