Teachers and students email me occasionally to ask how to become bilingual. For example, Tiffany is teaching English in China and has the following problem:
The motivated student who can't improve their English
I am teaching a two-hour one-on-one ESL lesson to a 35-year-old Chinese man, and I am struggling to improve his English. He has been studying English for ten years and has lived in Australia for two, but he still struggles with advancing his English. If you have any insight or advice, I would be very grateful.
What is going wrong?
Let's face it, most people who live for two years in a country where English is the native language and who are motivated to learn will be fluent by the end of their stay. I suspect that the problem lies with the student and not the English teacher. Unfortunately some people put all the onus on the teacher who has to teach them rather than making an effort to learn.
What is going on?
If you have a student like this, ask yourself these questions:
We know your student is motivated because they are taking private English lessons, but are they making any mental effort to learn?
Are they doing homework?
And are they learning vocabulary independently?
In addition, are they memorizing grammatical structures on their own?
Or do they show up for class and think they will improve because you are teaching them? They may believe that it's your job to teach them rather than their job to learn. As far as they are concerned, they have done their bit by taking the lessons.
How to become bilingual
Try these strategies for success to help your student make progress:
Set homework each week. Give vocabulary lists to learn, by heart, from English to Chinese and from Chinese to English. If your student has to write English, they should memorize spelling too. At the start of each lesson, give them a test on the vocab and keep a record of their scores, that way, they can see their progress. If they haven't learned the words, there you go! How do they expect to improve if they don't make the effort?
I would also give them a grammar topic to study and master each week. In addition, give them a test to measure progress.
Putting them on the spot like this in every lesson reminds them that they are responsible for their learning. You can facilitate, but you can't learn for them.
No time
If your student says they have no time to learn vocabulary outside of class, tell them their progress will be limited. Perhaps you can record the vocabulary and they can play the words while travelling to work. Everyone can always find ten minutes a day for something – it's a question of motivation, organisation and priorities. The good news is that once you have learned a language, you know it; the job is done! So it is worth the effort initially required. Sure, you can get a bit rusty if you don't use the language for a while, but it all comes back very quickly when you start using it again.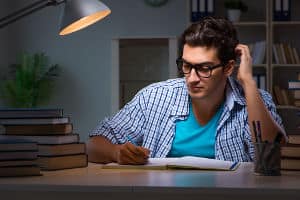 Helpful Teaching Resources
If you have my book of activities for teens and adults, take the step one and step two games to drill vocabulary and grammar. This content then goes on the list for homework. Next split the lesson into drill activities for new words and grammar and fluency activities. Using this teaching method will show you how to become bilingual.
Join in with your ideas on how to become bilingual
Your comments are welcome in the box below. (Your email is private, it's only if I need to write to you, and if you want to follow the post.) Any of my teaching resources will help your students progress on their language journey. Feel free to contact me so I can help you choose the best resource for your needs.