This post looks specifically at preparing a school show for an end of term or year.  While this post focuses on a show at kindergarten, the ideas apply to children of all ages.
Have you ever put together an end-of-year performance with 4-5-year-olds? You might worry that the kids will freeze, and you'll end up doing all the lines! You want to show off, not be shown up!
I have organised end-of-term and end-of-year shows with preschool kids, and the kids and parents were always delighted. However, a successful show does take careful preparation.  Check this post for the preparation steps since these apply to children of all ages: Preparing an end of term show.
My first school show was nearly a disaster!
The first time I did a school show with 4 and 5-year-olds, I discovered how overwhelming the whole thing was for them. The six-year-old playing the lead character arrived in a fabulous princess dress only to find that all the other kids were dressed nicely but were not in fancy dress. Traumatized, she went home to change. But in the meantime, the show had to go on, and my lead character had gone home to change! Luckily my teaching methods meant that all my kids knew all the lines, so someone else stepped in and performed the lead beautifully. When the princess returned, dressed normally, she joined in with the rest of the show.
The other thing that went wrong was that the kids did freeze up at first, and I had to coax them.
Lessons learned
From the experience of the first school show, I changed the way I did them and have never had any problems since. 
Firstly, I recommend that you perform in an intimate space, with parents sitting closely, in an informal way. It's better to have parents close to the children than to use an imposing stage.
Keep props simple and quick to put on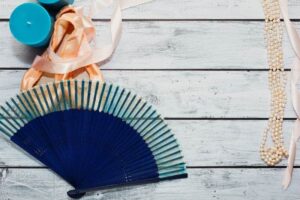 Next, the clothing issue is easy to solve. First, you need to talk about what everyone will wear the week before. Fancy dress is not necessary and can be an imposition on parents. So, a few choice props are enough to conjure up a scene or setting. (Sorry guys, the picture below might be a bit girly for you. I do realize there are male teachers out there! I couldn't find anything more neutral in the time I had.)
Cure stage fright
Next, to prevent children from freezing up from shyness, start the show with collective language games. Feature vocabulary the kids have learned during the term. For example, children could go up to the audience and point to different colours they are wearing or show them a picture flashcard. This way, the kids make direct contact with the audience and feel less intimidated. They realize that they don't bite! Then do a song with actions collectively. This introduction warms the kids up and gets them used to the audience.
Elements of the show
As well as games and songs, and maybe a live quiz, do some short role-plays, perhaps just a question and answer exchange, to show off some more language learned. And the finale is the skit. Of course, by now, the kids are used to being in the limelight, so they are not tongue-tied when the moment comes to say their lines.
My plays and skits for children are perfect if you are looking for suitable scripts.
I'm here to help if you need me. Use the comments box below to ask me any questions you like.
Kind regards
Shelley Ann Vernon
More helpful tips on preparing for a show
Preparing short plays in English