If you are home tutoring or teaching English face to face, this post is for you. Hear from tutors and parents around the world teaching English with Shelley Ann Vernon's "Teach Your Child English."
Thanks to all the teachers who write in to me, and also to those who leave reviews for my paperbacks on Amazon.
Teacher feeling more confident now
I have already put some of the games to use in a private class. I'm already more comfortable with my student and it's great to see her enjoy the games. Having little experience with children, I'd been intimidated by the idea of using games. It felt unnatural to me, but you're right that you just have to start and see how it goes.
Alex O'Rourke, Medellín, Colombia
Such amazing resource – now it's all going so well.
Just want to say thank you for such an amazing home tutoring resource. I've only tried a few games so far with my kids (4 and 10), and they respond very positively, especially the younger one. They've never reacted well to coursebooks for children, but now it all is going so well!
Olga Vorontcova, Russia
Useful and Inspiring
I'm very glad and thankful to you for the videos you've sent me. I find them very useful and inspiring as much as the teaching one to one book.
Helen (Olena) Khromykhina teaching in China
Kids love this fun home tutoring method
My child asks me for the games every day!
I have been using your games and the story book for several weeks now. My son (4) loves them. Practically every day when we get home from the kindergarten, he asks if we can play games and he means the English games. He especially enjoys games where he can run, jump or get chased. Even my daughter (1,5) often joins the fun, although she will not keep at it so long.
Step by Step instructions
I finally got around to watching the demo with julie after reading the introduction and relevant sections of the teach your child english book. I was very impressed and excited to have discovered these wonderful and so creative games accompanied by step to step instructions. Well done and thank you!
Theano Vingopoulou, Athens, Greece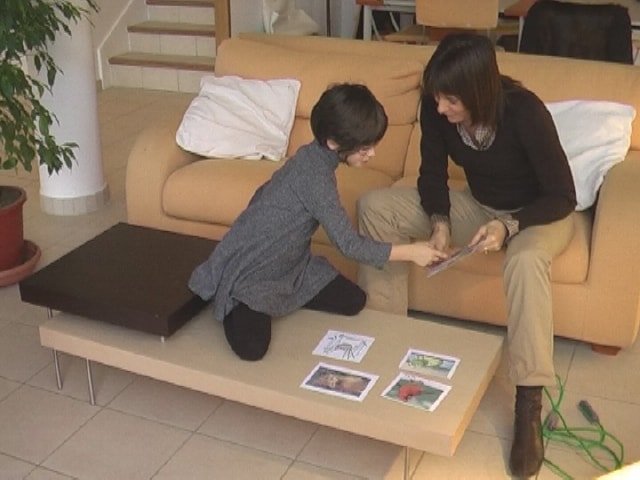 Teachers and pupils enjoy lessons more
The student never enjoyed a lesson so much!
My compliments for the book! I used some of your games today and can safely say that my student has never enjoyed a lesson so much!
Graziella Malnati, Italy
Ahead of all her classmates
We are both missing you a lot. Victoria's French is really keeping her ahead in school and she's getting As all the time, and it's helping me as well because lots of French people come into my class at school! The French people say to count up to 20 and it is really easy as I can count up to 60! Wish you were here, love from Hannah.
Hannah Watson, Canterbury, UK
Best lesson ever with the book !
I thought you might like to know I used some of your games with my students this afternoon, I was delighted with the result, firstly the time just flew by with lots of interaction, happy smiling faces, lots of ideas coming from the children themselves, the one usually very quite child was so lively, it was such a pleasure to see his transformation..
Lesley Adamson Rubin, Italy
3 Demo lessons are included with the games book
The videos really help
I just love the material and how well the classes go. Thanks a lot for your superb work! The video I've watched is Anna's one. It helped me so much! I wasn't really sure how things could be during my first class. Everything was new to me. And the video made it so easy to understand your system. I loved it. I wish I had learned English like that when I was a kid.
Ana Lucia Garcia Mendes, Brazil
A new dimension of ideas
I have started to see the videos. Just great!! This has open a whole new dimension for me as I had run out of ideas!
Ruth Braso, Spain
Preschool stories curriculum
Use these one on one and in groups
Your stories are great!!! I've tried the first story and was amazed. While my son was playing with his toys he repeated all the story with his toys. He was playing for all animals in turns and his favourite part of the story is the lion's hiccups. And all of that without my asking him to do it! Thank you very much!!!!!!
Lioubov Vereshchagina, Saint Petersbourg, Russia
This could not be simpler….or more needed
I have just watched all the videos – it's pure gold for me. I love your teaching and learning method a lot. It's simply the illustration of one of my beliefs as a teacher ( Less is more), but I've never succeeded in simplifying things as much as you did. My pupils really enjoy the games. I also enjoy them. They really need them as they need more variety and so do I. Thank you again for helping me break my limiting beliefs concerning the role of the language games in the classroom.
Cristina Pupaza, Gura Humorului, Romania
Benefits for parents, teachers and students
Total success with difficult student
My student has difficulty in concentrating and remembering vocabulary etc….I have to say that with your games my lesson was a total success, not only for me but for him as well. He was on the ball whole lesson and at the end he remembered nearly everything. I cannot wait for him to come back next week! Your methods certainly work and they are worth every penny.
Dorota Cooper, Pstragowa, Poland.
Instant success, faster learning
Most satisfied and grateful parent
Kaja and I learn English every day, and she is looking forward to it.She asks me continuously which games are due next! She can understand and takes part in most of them. Those which she can't understand I modify to suit the needs. I am most grateful and satisfied.
Dragica Jordanoska, Macedonia
Instant success with the games
I've already had success with two of your games. Yesterday just before going to a lesson I managed to watch a little of the first video with Anna. I had a lesson with two sisters aged 5 & 7 and we played your game with the rope and another one where you hide the cards and give them 5 seconds to find them. They, or rather we, had so much fun, they loved both games and just wanted to keep on playing, in fact the 5 year old got quite upset when I told her it was time for me to go home.
Vanessa Stuart, Cape Town Teaching in Ravenna, Italy
Lessons have changed now, thanks to the home tutoring games.
I just came back from my lesson with an 11 year old boy and he just loved the games (so did I). My lessons were starting to be a bit dull as I had explored all my resources of English games. But that is going to change now, thanks to you.
Nathalie Desmarais, UK
Amazed at how well students remembered
I would like to take this opportunity to say what a wonderful book you have put together. The children just love the games and I was amazed at how well they remembered new vocab and grammar points! Each child has his own particular favorite game and no matter how much fun we have playing the other games, we always have to play his favorite at the end of every lesson. I would, also, like to mention that the book is well set out and it is easy for me to find the games I need in order to teach the required information.
Nicole de Broglio
The kids get into the games and learn faster too
I'm writing to tell you how happy I am with the home tutoring games book, I have found the way to make the class more fun…instead of sitting in a table trying to keep the children interested. I realized that activities that involve them moving around is a lot more fun and they get really into them, and learn a lot faster too!
Maria Eugenia Flores Torres, Spain
Three fantastic home tutoring resources