The prospect of a long English lesson can be intimidating. EFL Teachers often ask me how they can "fill up" a whole day of English. The idea of teaching students in a stimulating way for hours on end is daunting! So let's hear from this EFL teacher:
"Your games book is wonderful, but my assignment is unique: I am teaching an intense ESL program to two sisters from Italy. Help! I have a certificate in ESL but have not had this scenario. One girl is 12 and the other 14. We are doing 4 hrs. a day, 5 days a week, for 2 weeks. These hours will require a lot of material to fill each long English lesson. Your book offers me games and activities, but any other suggestions would be appreciated.
A day long English lesson?
4 hours a day, 5 days a week, for 2 weeks. That's 40 hours of English lessons. Luckily I have just the thing! And not just to "fill" the hours, but to have the kids speak English and enjoy the learning process. But let's make these 40 hours seem less daunting.
Don't waste time preparing a course for students you don't know 
Don't plan the entire course of English lessons since you do not know how the students will progress. This fact is particularly true if you do not know the students. Instead, prepare the first lesson and see the students' level and how fast they go through your material. That will allow you to tailor the second lesson more accurately. After that, you will have an overall plan for the course and can tweak the content as you go along.
Take breaks – the English lesson is long enough!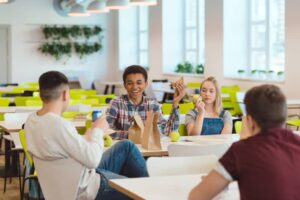 Take 10-minute breaks every 50 minutes. However, when you break, have a real break! No English! Leave students alone and take a break too. Ten minutes on your own will be heaven, to have a drink and collect your thoughts for the next session.
Break the day down into separate lessons
Split the long English lesson into chunks. For example, take the first 4-hour slot and break it down into 4 separate lessons of 50 minutes, with a 10-minute break. That seems immediately much more manageable. But, of course, each session of 50 minutes should be completely different.
The first session
In the first hour, I use intensive language games, presenting and drilling new language that you will use later in a skit. These activities require intense concentration from the students. So, make sure students are on the move, not sitting passively. My language games books are perfect for varied, fun ideas. After 50 minutes, take a break!
The second session
Continue with a song.
Print the lyrics and have students chop them up into sentences.  Then each small group works on either a verse or the whole song.
Students listen to the song repeatedly and piece them together.
Then do treasure hunting for grammar in the text.
Discuss the meaning and put some actions to the song – your students decide what these should be.
Put together a choreography, which might include some dance steps if your pupils enjoy that. You can also combine meaningful actions or role-playing to any part of the song.
Country music or rap are useful, since these songs often have rich texts that tell stories.
If your students are beginners, take slower songs, such as the House of the Rising Sun.
Have students on percussion use saucepans as drums, bottles, and shakers (containers with sand or stones). Everything happens in English, even with beginners, using demonstration, gestures, and frequently repeating key commands and words.
If anyone has musical talent, consider writing a song together.
Take a break. Students should have a drink and perhaps a piece of fruit or a healthy snack. Again, no laborious English during the break, which should be a proper rest. Give them a break from you too! (And you from them.)
The third session
Start with work on a skit. In the first session, you will have started the groundwork. Now it's time to put this target language into context.
First, present the whole skit to your students and perhaps have them read it with you.
Then, ask questions or translate anything they don't understand.
Next, take a mini-dialogue from the skit and rehearse it five or six times. Never use the script for this. That's a recipe for disaster. Instead, make just four lines and drill them from memory. Bear in mind that you will have prepared this language for 50 minutes in the first session.
How far you go in the skit depends totally on the level of your students, so you will have to tailor the ideas here to your particular requirements.
Once you have drilled 2-4 lines several times, ask students for ideas for actions or staging for that part of the skit. Then, take 2-4 different lines and drill those.
Next, play listening games with the script. For example, have students cut up the script and place pieces around the room. Then, play Musical vocabulary with those chunks of text. Next, pin chunks of text onto a sheet (using safety pins), or better still, write them onto an old sheet you don't need. Your students help you. Then play Twister with your sheet!
All the while, you are drilling the language, yet students are moving, active, relaxed. In this alert state, they are so much more likely to learn than sitting looking at a book or copying lines. There simply is no comparison.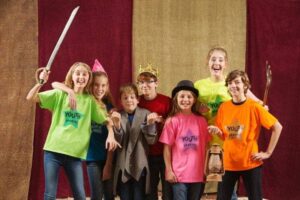 The fourth session
In the final session, I would do some calm writing activities, word searches, quiz questions, crafts, or playful worksheets.

It's fun to create a giant quiz that you add to gradually over the lessons. Putting on a quiz as part of the show at the end of the course is a good way to showcase everyone's English.

Alternate with a board game or big game activity that takes up an entire lesson.

Making props for the skit or a programme to invite parents at the end of the course would be appropriate.

On the other hand, it's good to change topics completely.

Things can get stale if every session is about the same skit or topic.

Oh yes, and of course, the last session would be the time to tell a story.
I could go on and on, but this blog post is now long enough!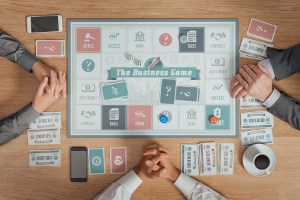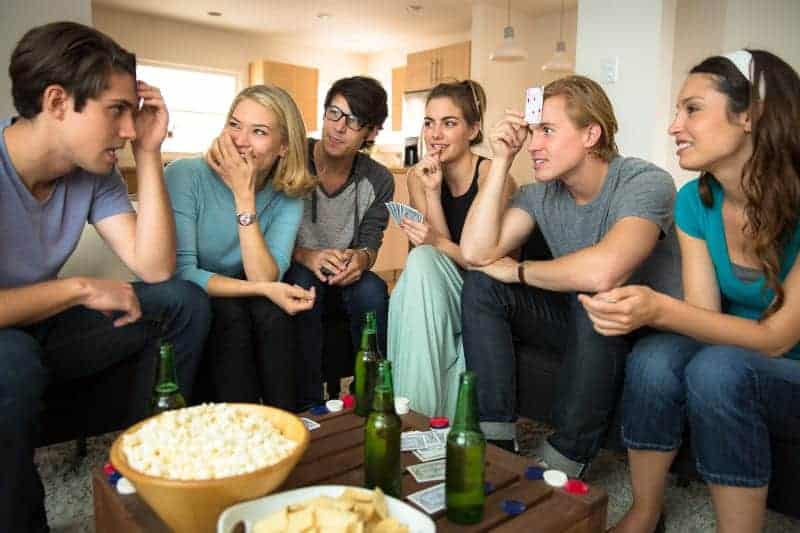 Towards the end of the day, stick to relaxing activities such as cooking together, making something, or playing language games outside such as Blindfold Directions, Stuck in the Mud. Of course, it all depends on your pupils' age and level, so choose something they enjoy.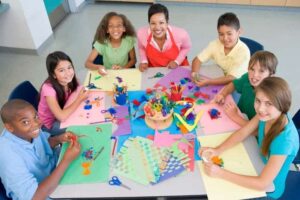 Fun Resources for Teachers