Teaching students with disabilities seems to be becoming pretty common. However, language teachers, who may have no training in handling children with learning difficulties, often find them in their classrooms. While I have no perfect solutions, I do have some tips that may help.
Most important tip
Firstly, please do not discourage students with disabilities or any learner for that matter. For example, it's best to avoid giving them test results they can compare with others. In addition, you would never want to read out or make test results public, inadvertently highlighting the students with disabilities' failure.
A rule of thumb for any teacher is never to imply that a student cannot succeed. Students with disabilities often know they are drowning and don't need it pointing out! On the contrary, if you are positive, then perhaps your students will also be hopeful and have more confidence, despite their learning difficulties. Even if you teach the student nothing in your particular class, you will at least have given them emotional and moral support. Consequently, this student may have the courage to continue trying.
Set attainable goals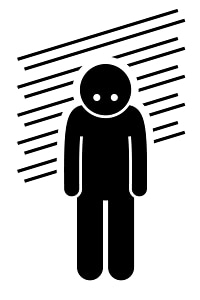 Regardless of what you are doing with the rest of the class, set individual goals for students with disabilities, such as learning two new words in a lesson. If your learners are children, keep parents in the loop by sharing these goals. Also, try to make them attainable. Hopefully, students will succeed with their specific goals, and this is encouraging.
If you use the same text with the whole class, give easier questions to challenged learners. Naturally, you cannot expect students with difficulty to complete the same tasks as the other students in the same timeframe. How would you like to be lost in class and unable to do the assignment when everyone around you can do it?
However, with encouragement and hope, your students with difficulties may nevertheless go on to succeed in an area of life, despite travelling a relatively short distance along the academic path. After all, those people who are happy are the successful ones!
My experience
The first time I had a student with learning difficulties, I didn't know it. The parents dropped her off and said nothing. However, I soon observed that she couldn't retain information. So I just went on as if nothing had happened and pretended that I hadn't noticed. Then, I started asking her questions right after we had just heard the answer, and she could answer me correctly. Any correct response from my pupil meant that I could praise her, which I did lavishly, and I believe this was fairly rare for her!
I was astonished, therefore, when her parents told me she had improved in all subjects at school since coming to my classes. I think I was the only teacher who was able to say "Well done" and "Yes! That's right!" That said, I appreciate that it might not be as simple as that. But honestly, giving tasks students can do and encouraging them will go a long way. On the contrary, leaving them lost will only make them feel hopeless, and potentially give up, get depressed, and have all sorts of additional problems.
Discover the hidden talents
If there is something that the child is good at, include that in the lesson. Being good at something does wonders for a student's self-esteem. At last! Something they are good at! For example, I knew a Downes Syndrome boy who was a brilliant dancer. So, he could do a funky dance as a forfeit in a game, while someone else might prefer to name three vocabulary flashcards.
Appeal to different learning styles
Make sure you include lots of movement and other stimuli (not just a pen, paper, and books). Activities like a mystery box, flowing scarf games, feeling, smelling, charades, word games, acting, dance, and songs appeal to different learning styles and talents.
See 176 English Language Games for Children for fun, varied ideas.
If you can work out how a particular student with disabilities learns best, that will help. In addition, parents or the school might be able to give you more information about their child. For example, the child may respond best to visual stimuli rather than kinaesthetic – knowing this can help you a lot. This blog contains more on learning styles.
Find out more from the experts
You may want to delve deeper and read about learning difficulties. You will find a plethora of books on ADHD, dyslexia, autism, etc., and it could be inspiring bedtime reading! No kidding, if you  understand what someone is going through, you may be more compassionate, which will help you a lot when you are standing there feeling frustrated in class. You'll also learn tips on how to handle those difficulties.
It's also well worth asking for support from your school and other teachers. If you can observe or talk to experienced teachers who have relevant knowledge, this can be a huge help to you. This book by Tom Daly, How to Turn Any Disruptive Child Into Your Best Student – the ADHD Solution for Teachers, is out there, lost among millions of books on Amazon. I do not know if it is any good, but at $2.49 a copy, you can't go wrong! Here is the link.
English Teaching Resources
I do know of teachers who are already using my games and resources for children with learning difficulties. And they have had success with them. I believe this is because children with learning difficulties often need to go at a slower pace, have lots of repetition, and be stimulated with visuals, audio, kinaesthetic methods – not just textbooks and worksheets, which, often for various reasons, they can't handle.
So I would say that if you use my games book for primary school children and teach three to four new words at a time, with lots of different games and repetition, you should get somewhere. And I'd also use the plays and skits with them. If you are not teaching English as a second language, but English as a native language, then the games book will be great to drill spelling and grammar with them gently.
Great resources for teaching children with learning difficulties
Teaching older students with difficulties